Mission Statement of the 114th PA Vol. Inf. Co. A-Zouaves d'Afrique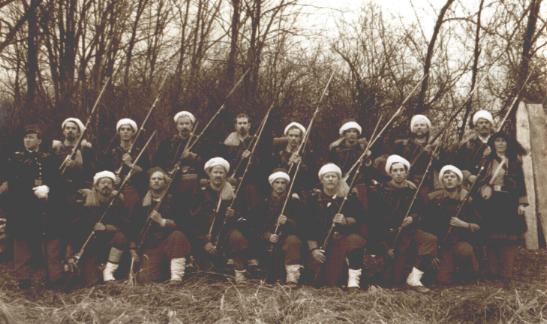 Our organization is known as the 114th Pennsylvania Volunteer Infantry, Co. A - Zouaves d'Afrique. We are a Civil War reenacting unit based in Gettysburg, PA. The goal of our organization, (henceforth in this document called the Zd'A) is to authentically and safely portray a Zouave unit of the Army of the Potomac, the 114th PA Vol. Inf., Co. A. We aim to educate the public, learn more about the lives and duties of the Civil War soldier, and further our own knowledge of the Civil War, the 114th PA, and its original battles, actions, campaigns, uniforms, habits, and members.
Our main portrayal is of the period from Fall of 1862 to the Summer of 1863 -from the events of the Antietam Campaign to the close of the Gettysburg Campaign. The original company of Zouaves d'Afrique fought in the Battle of Antietam. What was left was then made Company A of the 114th Regt. PA. Vol. Inf. (aka Collis Zouaves). We portray mainly these battle-hardened veterans of Banks' Bodyguard who went through the Valley Campaign and dealt with the forces of "Stonewall" Jackson (including participating in the only Zouave-to-Zouave combat in the Civil War at the Battle of Middletown where the Zd'A fought a rear-guard action against the Tiger Rifles of the 1st LA Special Battalion). We also have members whom represent the new recruits added to the thinned ranks of Company A. This way, we can have a mixture of weapons, uniform parts, equipment, experience, and impressions.
Our members portray a unit on campaign; as it would look in the field, not as it would appear in a garrison or permanent camp. This means that members carry a minimum of baggage, or only what they bring on their backs to an event. The "Dog Tent" is the only tentage allowed for military participants in this unit. The larger A-frame tents would not be used in the field. By General Order in 1862, the A-frames were relegated to use for hospitals, prison camps, and camps of instruction.
Our unit will have fun and be safe, but still be period-correct in our actions, dress, and mannerisms. We have a relaxed atmosphere in our group. We are not stitch-counters. If you wish to keep a cooler in the trunk of your car, and go off to the parking lot for a sandwich or drink, do so. Food eaten in camp will be period correct. In camp, when the public is around, we try to do period correct activities, such as bayonet drill and playing baseball. We also do first person for many battle scenarios. At night when the camps close, however, kick back and relax around the campfire. The camaraderie is what is most rewarding at times.
Were are a member unit of 2nd Regiment, Vincent's Brigade. Their policy is to combine units on company streets for compactibility and management purposes. Our street is shared with the 105th PA, Co. E. The set up goes A-frames, then dog tents and shebangs, and then campaigners. Often times, our unit will go off and campaign in a patch of woods away from the main camp set up. We always make sure to be back in camp for morning roll call.
We are also a member unit of the United States Zouave Battalion. The USZB is an ALL-ZOUAVE battalion that meets at least once a year to portray a full-strength Zouave company at the largest yearly Event.
Rank in the Zd'A is currently limited as follows: 1 2nd Lieutenant, 1 First Sergeant and 1 Corporal. Our Lieutenant is Shaun Grenan, our First Sergeant is Bob Amend and our Corporal is Aaron Conklin. This command structure shall suffice for our purposes as a reenacting organization.
Our organization is the sister unit of the 105th PA Vol. Inf., Co. E under Major Ed. Kelley. These two units originally fought side-by-side in the War as part of Robinson's, and leter Grahamís Brigade of the 1st Division, 3rd Corps. We fight side-by-side with the 105th PA, Co. E just as our units originally did. The 105th PA, Co. E is sponsoring us this season for membership in the battalion organization known as Vincent's Brigade. We are a unit belonging to the 2nd Regiment, Vincent's Brigade, under Lt. Col. Ron Palase. We will fight side-by-side with the 105th PA, Co. E wherever and whenever possible, depending on the scenarios portrayed and on the events attended.
Our organization meets for events at least once a month during the main reenacting season - April to November. We have battles, parades, ceremonies, encampments, battlefield walks, picnics, and drills during that time. During the off-season, however, we will still continue to meet once a month for a meeting and/or drill. We use e-mail as our main means of communicating quickly with our members, however, we will still call members to inquire about events, etc. We do not tell members that they must buy equipment and/or uniforms from a set sutler, but we have a list that is a good guide for new and potential members. It is recommended that a new recruit first talk to either Bob or Shaun before purchasing any items. This way they will not make the mistake of purchasing incorrect or inauthentic equipment and/or clothing.
For any questions on the unit, membership, policies, or any other questions, please contact Bob Amend at gettysburg114th@aol.com or Shaun Grenan at colliszouave@hotmail.com. We may also be reached via the website http://114thpa.tripod.com.
Back to the 114th PA, Co. A Homepage
---