ATTENTION: NEXT EVENT, BALLESTONE MANOR, APRIL 19th-21st, ESSEX, MD
---
The
114th Pennsylvania, Co. A
Collis' Zouaves d'Afrique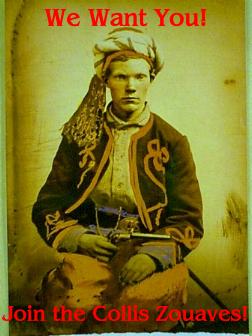 Unidentified Private.
Courtesy USMHI, Gil Barrett Coll.
Welcome to the UNOFFICIAL website of the 114th PA Vols., Co. A. I reenact with Collis' Zouaves, and decided to make a website about the unit for my own personal use. The official website may be found at http://114thcoa.tripod.com. Enjoy!
To get in touch with us, for recruiting info, etc.; e-mail colliszouave@hotmail.com, gettysburg114th@aol.com or call 1(717)338-0915. We're currently accepting new members. Email or call to request an info packet and one will be sent out.


Men of the 114th PA at Petersburg, VA in 1864.
(Courtesy Library of Congress)

---
You are visitor number: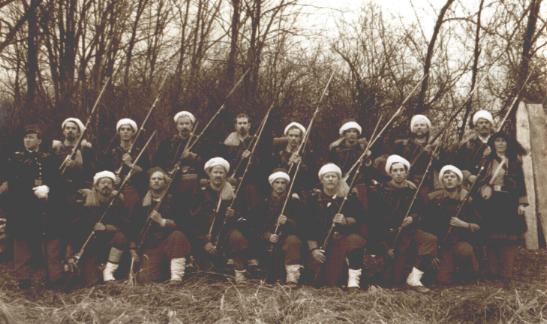 As featured in the film, Gods & Generals, the 114th PA!

---
Website and contents copyright Shaun Grenan